OTT entertainment is undeniably one of the most popular forms of entertainment at present. This digitalized version of entertainment has proven to be an excellent alternative and even a great replacement for traditional entertainment.
Out of all the forms of OTT entertainment, on-demand video streaming is undoubtedly the most popular one. Today, people of all age groups enjoy streaming videos digitally on their devices. This form of entertainment enables people to stream the videos of their choice at any time from anywhere, which is contrasting to traditional video entertainment, which requires people to be present in front of a screen at a pre-fixed time.
Owing to the increasing popularity of on-demand video streaming, more and more OTT platforms are coming up in the market and are offering video streaming services. This throat-cutting competition calls for a way in which video streaming service providers can distinguish themself and differentiate their services.
This blog will provide time-tested tips and tricks through which OTT businesses can nail their user experience and the competition in the market. However, let's start the blog with the basics, i.e., by understanding the size and scope of the OTT sector.
OTT Entertainment Industry at a Glance
OTT entertainment has outshined traditional entertainment in numerous aspects and has become the leading choice of people looking for entertainment services. Today, most people prefer watching dramas, movies, sports matches, music concerts, etc. on their phone and laptop screen over visiting the entertainment venue physically.
Owing to this rapidly increasing demand and growing scope, the market size of on-demand video streaming is expected to cross USD 122.4 billion by 2022. The entertainment service providers are aware of this demand and are implementing strategies to grab the tremendous opportunities that the OTT sector has to offer.
As a result, consumers have more options than ever before to choose from when it comes to video streaming service providers. This has resulted in increased market competition in the OTT sector, where video streaming service providers are looking for ways to beat the competition and gain the upper hand in the market.
One way to achieve this objective is to excel at the user experience of your OTT platform. However, this is easier said than done, as enhancing user experience requires a thorough understanding of the market paradigms and customer demand.
But worry not, we have already done the research for you. In the upcoming section, we will discuss 10 tips and strategies through which OTT platforms can enhance the user experience of their platform, so make sure to read carefully.
10 Tips to Nail User Experience and Win the OTT Race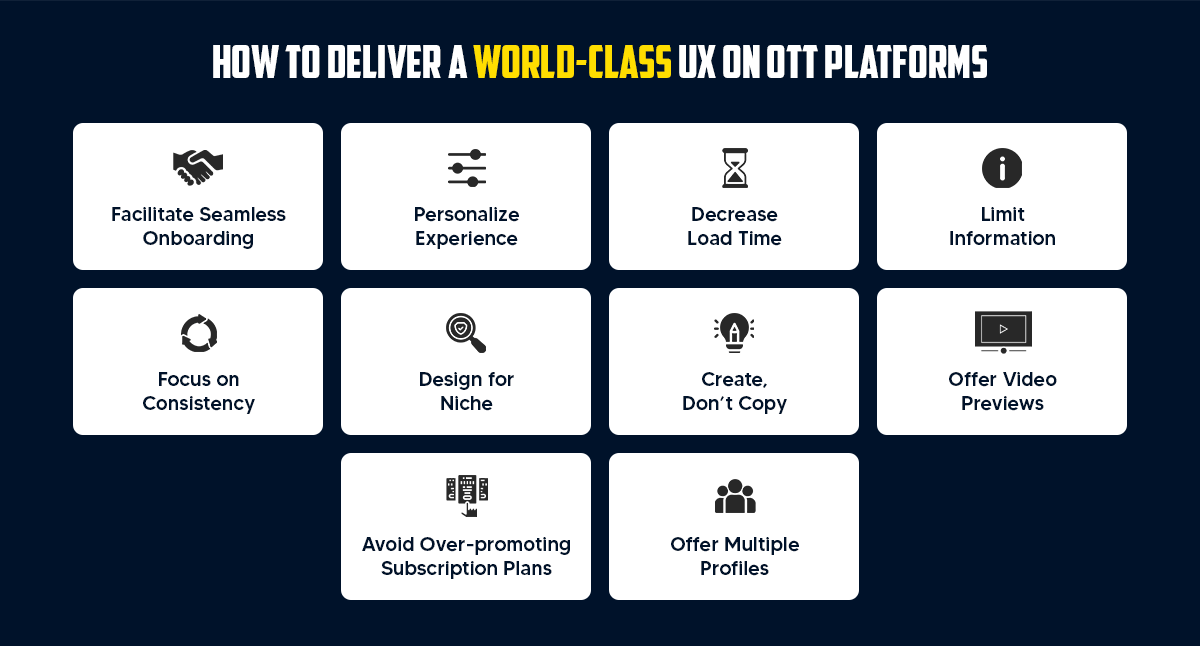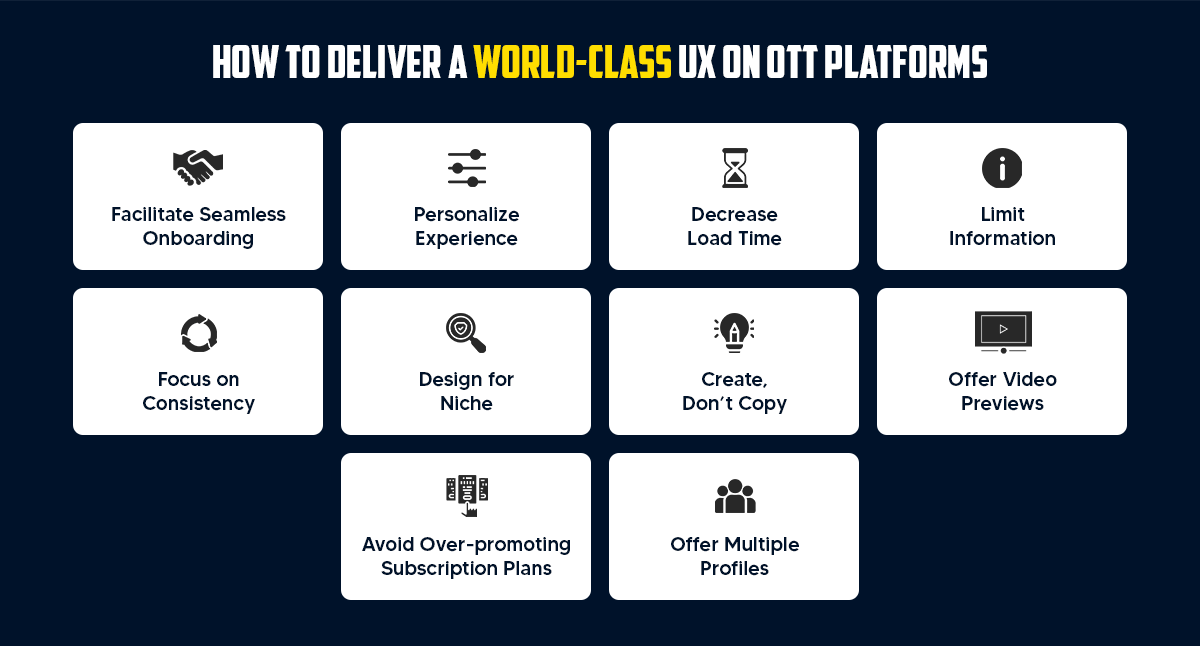 Facilitate Seamless Onboarding
Onboarding is the first interaction between the user and the OTT platform and, therefore, is a critical process. This stage can either make or break the user experience and will determine whether the user will abandon your platform or will continue to use it in the long run.
To elaborate, a lengthy onboarding process is highly unpleasant for the users as it requires them to fill in a ton of information. While this information is crucial from the platform's point of view, users who visit the platforms for entertainment often perceive this process as unnecessary.
Therefore, it is in the best interest of the OTT service providers to optimize the onboarding process and make it as quick as possible. Once the user has boarded your platform, you can ask for all the less-important information later. Another great idea is to differentiate the most critical information from the least critical one and make providing the less important information options. This way, the users can determine whether or not they want to provide the information and can skip through it if desired.
Personalize Experience
Regardless of the industry or product/ service that your business operates in, it cannot be denied that personalization is the key to delivering a high-end customer experience and earning customer satisfaction. The OTT sector is no different in this aspect and has tremendous potential to enhance its customer experience through personalization.
To elaborate, OTT platforms use cookies to understand the user's behavior and preferences and provide recommendations based on the same. For example, if you have streamed numerous action movies and dramas, you are likely to be recommended more of them on the platform.
This aspect of user experience personalization enables users to receive recommendations based on their preferences and likings, further enhancing their experience from using the platform.
Decrease Load Time
Load time is one of the major disasters of every digital platform and directly contributes to a negative user experience. To explain, the more time your video streaming website or mobile application takes to load, the more compromised your user's experience will be.
As a result, it is in the best interest of the OTT platforms, among other digital platforms, to optimize the load time. There are many technical ways to do this, most of which require high-end coding of the platform. Therefore, we recommend you carefully choose the development team for your video streaming platform.
Moreover, just reducing load time for once is not enough. You must constantly test your platform for load time and ensure that the screens/webpages are taking as less time to load as possible. This will guarantee a consistent UX across your platform and will ensure that your users do not have to wait for a long time before being able to watch the video of their choice.
Limit Information
Content information serves as the foundation of the OTT experience and enables the users to understand what exactly they are watching. As a result, it is essential for the users to have the information for all the videos handy on the platform.
However, a lot of information can often overwhelm the users and give your video streaming platform a blog-like appearance. In addition, the more information you will add for each video, the more lengthy your webpage or app screen will be, and the more time it will take to load.
Moreover, in most cases, most of this information is of no use to the viewers and is skipped through. As a result, video streaming service providers should focus on limiting the information they provide about the content. This way, the users can easily find what they are looking for without having to read large chunks of text, further boosting their experience.
Focus on Consistency
Design consistency is one of the most important aspects of user experience and is as important as design responsiveness. However, many times video streaming service providers fail to understand this factor and create OTT platform designs that are far from being consistent.
Resulting from this, the platform provides a different user experience on different devices and can degrade the overall user experience. This difference is often visible in platform architecture, features, element placement, etc. Moreover, certain OTT platforms also tend to have different designs for different platforms (websites and mobile applications).
This design inconsistency can often confuse the users and degrade their experience of using the video streaming platform, as they have to make themself familiar with different designs for fluent navigation. As a result, it is essential that video streaming service providers create a consistent design for their platform to deliver a consistent UX.
Design for Niche
UI design is one of the most important factors of every platform that determines its identity. As a result, it is essential for the platform owners to design a platform that is in alignment with its niche for optimum user experience.
However, numerous video streaming service providers fail to understand this concept and solely focus on the design's visual appeal, disregarding its context.
This often results in a degraded UX as well as the overall quality of the platform. For example, the UI design of a concert streaming platform cannot be similar to that of a sports match streaming platform.
Therefore, as a video streaming service provider, you must conduct thorough market research and understand the competitor's platform before starting the UI/UX design for your own platform.
Create, Don't Copy
There are a plethora of on-demand video streaming platforms available on the internet. Some of these platforms have witnessed tremendous market success and are earning billions in their revenue. Yes, you guessed it right, we are talking about OTT giants like Netflix, Disney+, and Amazon Prime, among others.
In this case, most of the newly established video streaming service providers think that the only way to succeed in the market like these platforms is to copy their ideas and implement them on their own platform. This often includes the design, platform architecture, features, brand name and logo, etc.
However, let us tell you that this is a highly disastrous idea and can result in lawsuits. Moreover, it is commonly known that just because the idea has worked for a certain platform, it is not mandatory that it will also work similarly for your platform. Today, most users are aware of the major OTT platforms and are quick to recognize whether your platform is unique or a copy of the popular video streaming service provider.
Therefore, it is in your business's best interest to create your own unique identity instead of copying that of an already existing platform. To elaborate, many businesses plan to build a video streaming website like Netflix after being motivated by the OTT giant's business model and strategies. However, you should also focus on differentiating your services from those of Netflix by creating a unique UI that represents your business ideas.
Offer Video Previews
When planning to watch a video online, viewers are often in doubt about whether or not they will like the video they are about to watch. While reviews and ratings do provide an overall assurance of the content's quality, there is no way to determine if the video is actually to the user's liking without watching it.
This is where the role of video previews comes into the scenario. Video previews are one of the most popular features of on-demand video streaming platforms. These previews enable the users to get a glimpse of the complete video and determine whether or not they wish to watch it.
With this feature, the users no longer have to visit each video and watch it in order to determine if it is up to their liking. Therefore, it won't be wrong to say that video previews enable video streaming service providers to enhance the services of their platforms and deliver a high-end user experience.
Avoid Over-promoting Subscription Plans
Subscription plans are the primary monetization mediums of on-demand video streaming platforms operating with the SVOD (Subscription Video on Demand) model. Naturally, every video streaming platform aims to make maximum sales and promote its subscription plans as much as possible.
While this idea might sound correct from the business's point of view, it can be disastrous from the customer experience perspective. To explain, being constantly reminded to buy a subscription plan can be irritating for the customers and can degrade their overall experience with the platform.
YouTube is one of the best examples in this context. The platform is known for heavily promoting its subscription plan to the viewers in order to maximize its sales revenue. This concept hasn't gone unobserved by the viewers of the platform, who have been vocal about their dissatisfaction with being a repeated target of promotion for subscription plans.
Therefore, it is in the best interest of video streaming platforms to limit their promotions and allow users to determine whether or not they wish to buy the platform's subscription plans.
Offer Multiple Profiles
Multiple user profiles are one of the latest and highly liked features of digital streaming platforms. This feature enables multiple users to benefit from the platform's video streaming services under a single subscription plan.
Netflix was one of the first platforms to add this feature and is still known for it. Here, a user can buy a subscription plan for a certain duration of time and add different child users under their account. All of these accounts are managed by different users and have their own unique watch lists, preferences, history, etc.
The users can choose to protect their accounts with passwords for added security and privacy. This feature makes on-demand video services highly economical and is highly preferred by families and groups of friends who prefer to share subscription plans. Therefore, adding this feature to your video streaming platform can be your USP and can help you gain customer preference in the long run.
These were a few strategies through which video streaming service providers can nail customer experience and get a hold of the market.
Final Thoughts
The OTT sector is highly competitive and is stuffed with numerous video streaming service providers offering similar services. As a result, it is becoming more and more challenging for video streaming platforms to differentiate their services from the platforms and gain market preference.
One way to achieve this objective is to focus on the platform's quality and optimize it in order to uplift the user experience. This way, video streaming service providers are most certain to deliver a high-end user experience, gain customer satisfaction and earn the loyalty of their users.
Source link