It's that time of year when Spoon Graphics gets a little older, with 2022 marking 15 years of tutorial creating, freebie sharing and article writing on what started as a blog that was attached to my design portfolio website in 2007. Every April I take some time to reflect on the past 12 months and talk about how things have changed. Last year I talked about how it was nice to see traffic levels plateau somewhat after the massive declines over recent years, so let's take a look at the latest stats and figures and see how things are going another year on.
I always start these anniversary posts with links to my previous yearly celebrations. It's interesting to go back and see how my blog has evolved:
Traffic change: -31% (😱)
Top Content: 25 Adobe Illustrator Brush Sets You Can Download For Free (2016) & 8 Free Stipple Shading Brushes for Adobe Illustrator (2015)
Email Subscribers: 144,990 (-34% after a cull of inactive subscribers)
YouTube Channel Subscribers: 487,575 (up 19% from 2021)
Highest Traffic Peak (This Year): Monday May 3rd 2021 – 24,363 visitors (Torn Paper Edge Graphics to Create Realistic Collage Effects)
Highest Traffic Peak (All Time): Tuesday November 11th 2014 – 44,592 visitors (How To Create a Realistic Painted Effect in Photoshop)
Well, just as I thought traffic was levelling off again after the -23% drop between 2019-2020, this past 12 months has seen the largest decline of all time, down another -31% on last year. We're now back to 2008 levels, when Spoon Graphics was in its infancy. I'm now seeing fewer daily visitors numbers than on Christmas Day of years gone by.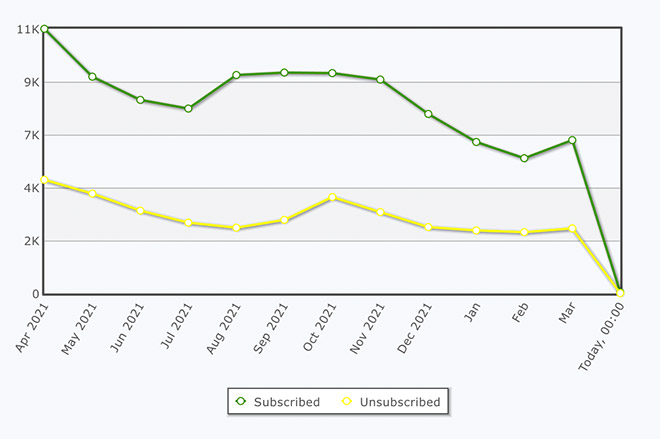 I can't comment on the status of my newsletter this year because I gave it a massive cull of inactive subscribers to save over $800 per month in costs, but it's great to see my Spoon Graphics YouTube channel continue to grow towards its next big goal of 500,000 subscribers.
My Neon Light Effect Photoshop Tutorial from this time last year has since gone on to become one of my top performers, already achieving over 1 million views and claiming 5th place in my most-watched videos chart. As mentioned in previous news announcements, I'm now focusing more on YouTube, with the aim to funnel users to this website with the incentive of free downloads and to hopefully convert them into Access All Areas members to help keep Spoon Graphics going.
Powered by: WordPress
Hosted on: Bare Metal Server
Server location: Dallas
Monthly bandwidth: 7TB
Average running costs: $1462 per month (-29% from 2021)
In January this year, I made the biggest change to Spoon Graphics. Over 50 of my free resources were converted to members-only downloads. As a result, monthly bandwidth use has halved. The server upgrades I had to make in 2019 and 2020 are no longer required, so perhaps I should downgrade again to shave a little more off the running costs!
If you have found value from my tutorials or downloads over the years and would like to help support Spoon Graphics, please consider becoming an Access All Areas member. Many YouTubers use Patreon as a means for their subscribers to support their work, but the Access All Areas membership provides much more value with $5000 worth of premium design resource products, plus all future releases from myself and other talented creators that I partner with. I certainly don't want to leave anyone who can't become an Access All Areas member out in the cold, so you can still expect to receive my regular video tutorials alongside my inspirational showcases, roundup posts and the occasional written tutorial.
The regular membership price is $10 per month, but I'd like to offer my loyal Spoon Graphics readers a discounted annual plan for $99, a saving of 17.5% which effectively gives you 2 months free (plus an extra $1… Call it a gift from me to you!).
Due to technical constraints, only PayPal is compatible with annual plans, but other payment methods are available for regular monthly plans)
Purchase a discounted annual Access All Areas membership plan for $99
Source link